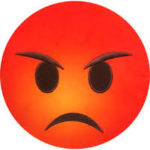 Years ago my yoga teacher at the time invited us to a Christmas break up after the last class for the year. We all sat round and had a nice time, and of course the talk got around to Christmas plans. And then one of the women, who'd been quite amiable till then, suddenly went into full Christmas Resentment. Her face twisted into an angry grimace…
…and she began to speak very bitterly about Christmas Day coming up. She said she was going to have about 15 people at her place, most of whom she didn't like (relatives, that is – either on her side or her husband's side) and she was going to be left to do all the work, including cleaning the house, doing all the cooking, and all the cleaning up afterwards. And then she was going to have to do the packing for the family to go away early next morning on Boxing Day.
Well, I – being always the undiplomatic one – said, "why don't you refuse to do it?"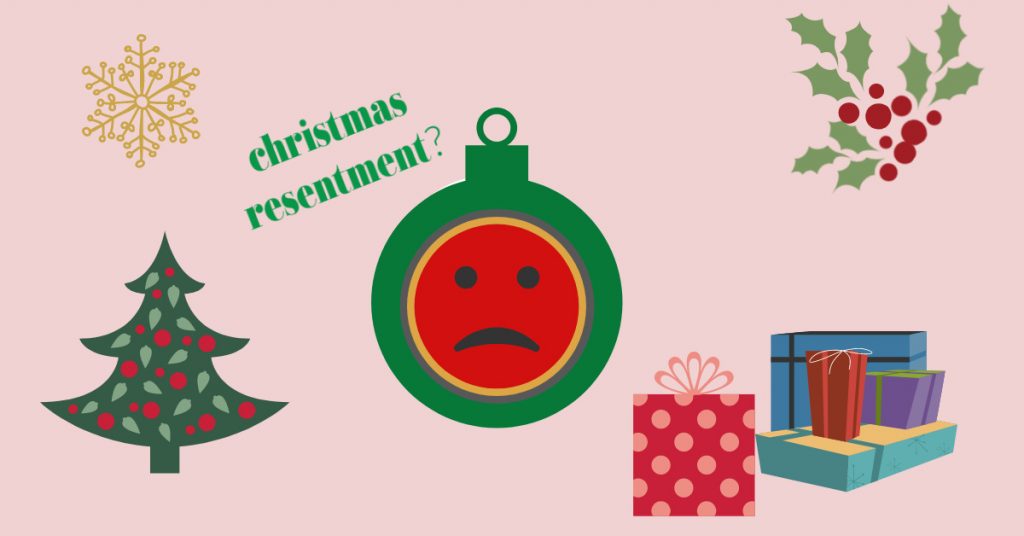 Most of us have experienced Christmas stress and Christmas resentments. And the TV ads that show happy families at a big table having fun and enjoying each other's company is rarely the case in real life. Some have managed Christmas Resentment eventually by – yes! – refusing, giving up the charade of giving pointless gifts with money that you can't afford, or giving so cheaply that you feel ashamed to give, whatever the present is, when it's all you can afford for anybody.
And some have given away the Christmas gathering altogether.
Personally I think that's fine. Once upon a time gifts were handmade, or a gift was something that was of value to yourself, that you owned, and that you chose to give to a loved one or to a dear friend. The current notion of grabbing something from anywhere off-the-shelf and paying somebody else for it, even for the wrapping, and all this by people who mostly don't even believe in Christmas as a religious festival anymore, really is ridiculous, isn't it?
In my case, my much loved long-term friend, partner, former husband and beautifully supportive person in my life, has his actual birthday on 25th December, while Jesus was certainly not born on 25th December. So we tend to have a small Christmas Eve lunch for family and invite a couple of close friends, and it is a sweet time. And then on 25th December we celebrate Rob's birthday – just us, his own family.
Perhaps that's easy for me now that I've been a Swami for 10 years – people are a little uncertain about what to expect from me. And I learnt to handle the stresses of Christmas much better years ago when I learnt to meditate. With meditation, little by little, perception changes. For me, quite a long time ago, there was a shift out of the programmed ideas about Christmas and family that had been instilled without my knowledge or consent, and I recognised the difference between loving consent and programmed behaviour. With meditation came insight and choice. With insight and choice came a more realistic understanding of how resentments arise from doing something as an unchallenged duty when so much of you is resisting and seeing it only as an imposition.
What about you? If Christmas is sweet and lovely and loving, and there is a spirit of generosity not only from you, but also amongst the people who share Christmas with you, with nothing being repressed, no passive rage, if there is is full-hearted sharing of gifts and the work entailed in putting on Christmas festivities amongst your family – the close and the extended relatives – and if Christmas for you includes a joyful spiritual connection with the great being that was Jesus, then fine… Enjoy.
If you feel totally imposed on, resentful, resistant, angry, bitter…. Then gosh, don't you think there might be a better alternative? You can read my last year's Christmas reflection, on ways to handle Christmas stress, if you like… but what else can you do?
What do you think?
PS: or you could learn still-mind meditation with me, if you like – learn how to remain still in the midst of things. Online 13th January for 6 weeks.

Or come to the Retreat in early February, to settle again after the main rush has subsided.
Comments
comments